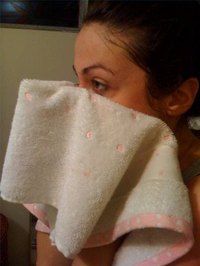 Brightening up your complexion with home remedies is actually a lot easier than you might imagine. Plenty of household items like honey and sugar have skin-rejuvenating qualities that work just as well as expensive brand-name face creams and lotions. Home remedies are preferred by many people who don't like to use skin care products that contain harsh chemicals and preservatives. Moreover, home remedies are inexpensive, readily attainable and easy to use.
Things You'll Need
Sugar
Olive oil
Honey
One egg
Lemon juice
Cucumber
Plastic mixing bowl
Food processor
Spatula
First, use sugar and olive oil to scrub your face of dead skin cells, dirt and oil. Combine 2 tbsp. of white sugar and 1 tbsp.of olive oil in a plastic mixing bowl, and stir to blend.
Scoop the scrub with your fingers and massage onto your face and neck using a circular motion. Rinse with warm water. This scrub is also moisturizing for dry and normal skin. Use it twice a week to even out a dull complexion and bring a glow to the face.
After scrubbing your face, use cucumber, honey, an egg and fresh lemon juice to make a cleansing and rejuvenating mask. Cut off two slices of the cucumber and set aside. Peel and chop the rest of the cucumber. Combine 2 tbsp. of honey, one egg, 1 tbsp. of lemon juice and the chopped cucumber in a food processor. Blend until you have a creamy paste.
Scoop out the cucumber-honey mask with the spatula and apply to your face and neck. Lie down and place the cucumber slices on your eyes.
Allow the mask to stay on your face and neck for 15 minutes, then rinse with lukewarm water. Cucumber has anti-inflammatory properties that soothe redness and refresh the skin. Lemon juice is a great home remedy for controlling oily skin. The honey and egg together tighten pores and rejuvenate the skin. Use this mask two or three times a week to soften your skin and brighten your face.