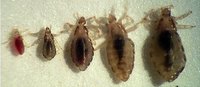 Are you suffering from head lice plaguing your head? Learn how you can effectively kill and destroy these little nasty pests before they take over your hair and head!
You must identify how you obtained head lice in the first place. Remember, sharing hats, clothes, pillows, and brushes can transmit head lice. If you currently have head lice, you will need to quarantine all of the exposed elements including your comb, bed sheets, pillows, hats, and clothes. Putting them in a hot dryer will kill of any of the lice and eggs.
Now, you will learn how to destroy these head lice quickly! First, the easiest thing to do is to comb them out. Purchase a delousing comb along with your conditioner, and comb them out when you are taking a hot shower.
After taking a hot shower, dry your hair with a electric hairdryer, burning these little head lice monsters.
You can purchase a Liceguard Robi Comb at your local store. This comb helps eradicate stubborn head lice effectively, and can eliminate an infestation of head lice within 2 weeks of use. You can purchase these for about $30.
You can also try over the counter medication at your local pharmacy. A product called Nix and Rid has been effective in treating head lice. Make sure that you contact your pharmacist before use because they contain a lot of strong and harmful chemicals that might not suit your body.