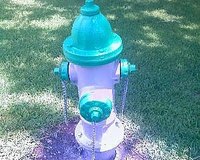 Ok, if you are seriously looking to start a new business and have the resources to invest in equipment, operating capitol, insurance, and materials. Here is a very lucrative business if you can afford to fund the business for 60-120 days.
Things You'll Need
Pressure Washing Rig 300+ Gallon Tank
20+ Gallon Air compressor
Mid-Size / Full Size Pick Up
No Fear of Being Dirty or having paint all over you.
Do all the preliminary steps to set up a business you can find many resources on eHow.com

You will need attain $Million worth of liability insurance and workmen's comp. Talk with your insurance agent. Market your Fire Hydrant Painting service to the COO of the water districts, cities, fire departments, and other municipalities. You can usually charge from $40 - $75 per fire hydrant pressure washed and painted. The typical small city will have you do 100 - 500 at a time, where as a larger city could have you do as many as 1500 at a time.
You will need a Pressure washer with a minimum of a 300 gallon water tank to carry water to pressure wash off the dirt, grease, and flaking paint from the fire hydrants. The first step go PW 50 hydrants at a time.

Second Step you will need a generator, air compressor, paint pot, whisk broom, plastic food wrap, plastic shower caps, and a small tarp to put over the sidewalk. You use a HVLP system don't use a airless they are high pressure and you will have overspray on everything and waste a lot of paint.
Most of the time hydrants are 2 colors sometime 3. So you paint the 1st color no need to mask any area now. (make sure you tarp any sidewalks or anything you don't want paint on) Go from hydrant # 1 all the way to #50 and then start back on #1 with 2nd color the paint should have had time enough to dry on the Bonnet and Caps.

Now that the bonnet and caps are painted take the plastic wrap and mask the bonnet and use the plastic shower caps to put over the caps. Now paint the Body of the Hydrant #1 - #50.

Do all the hydrants and invoice your customer and get paid.. Obviously this is over simplified but this can be done by one person. No employees needed just the overhead for paint, gas, insurance, upfront capital expenditures (CAPEX) and a good reserve for operational expenditures (OPEX)
Do the math 500 hydrants @ $50 per hydrant = $25000 - OPEX for job Gas, Hotel, Food, Paint, Misc Tools, Repairs Say 25% overhead or $6250.00. This leaves you $18,750.00 - your marketing cost to get the job $3000.00 = 15,750 / 60 days to complete = $262.50 per day for painting a few fire hydrants. The good news is that this will be a regular account that you do every 3 years and depending on the size of the city they may just have you do 500 hydrants every year and just keep rotating through the system for ever. There are plenty of add on services you can offer to like inspection, testing, and mapping.

You can even clean out the inside of water tanks for about $2500 per day.
Don't Drink the Water.