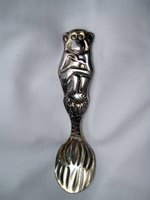 It's a special occasion and you are setting your table with your best linen, china and crystal. But when you take the silverware out of the silver case, the pieces are slightly dull and dark with tarnish. Your guests will be arriving within an hour, and you don't have time to get the silver polish out even to clean off a light layer of tarnish. Luckily, there is a technique--using things found in every kitchen--to clean a light tarnish off silver quickly and without a big mess.
Things You'll Need
Non-aluminum pan Aluminum foil 1/8 to 1/4 cup salt 1/8 to 1/4 cup baking soda Tongs
Select a non-aluminum pan to hold the silver. The pan can be anything from a stove top-proof glass pan--such as the old Corning Ware type--to an enamel stock pot. It doesn't really matter the style or size of the pan; it only needs to be non-aluminum and big enough to hold the silver that is to be cleaned.

Line the inside of the non-aluminum pan with aluminum foil, creating a bowl. The foil should come up far enough that the silver will fit inside the bowl it creates inside the pan.

Pour water into the pan, filling it past the aluminum foil bowl. Add the salt and baking soda. The amount will depend upon the size of the pan. A 1.5 quart pan would use 1/8 cup of baking soda and salt while a 2.5 quart pan would use 1/4 cup each.

Bring the pan of water with the baking soda and salt to a boil. Set the silver inside the foil bowl of boiling water. Let the water come back to a boil and let it boil for 3 to 5 minutes. The baking soda and salt in the boiling water will act like silver cleaners and draw the tarnish off the silver. This will cause the foil to turn black and may even create a smell like a silver cleaner. This is normal.

Remove the silver from the water using tongs. Allow it to cool. Wash the silver in warm soapy water and dry with a soft towel. Pour out the water and discard the tarnished foil.
Tips & Warnings
While this process won't completely clean heavily-tarnished silver, it will help to remove some of it, making it easier to clean with a silver polish. Store silver in an air-tight condition when not using it to slow tarnishing.
Do not use an aluminum pan for cleaning silver with this method; it will draw the tarnish and turn the inside of the pan black.
Photo Credit http://www.morguefile.com/data/imageData/public/files/s/sideshowmom/preview/fldr_2005_09_03/file0001985451499.jpg
Promoted By Zergnet