Painting a small bathroom should be an exercise in restraint. Too much embellishment makes the room shrink and look fussy; too much color and the walls close in. It's generally wiser to lean toward neutrals, a limited palette and big blocks of color that can make the walls recede. Paint that would be understated and elegant in any room of your house has that same effect on your scaled-down bathroom.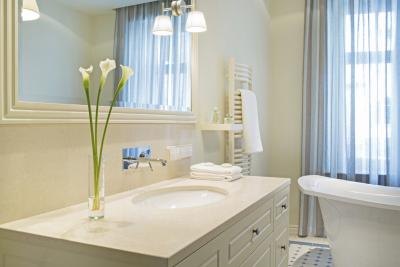 (Baltskars/iStock/Getty Images)
Stretch the boundaries of your small and skinny bathroom with cloud colors. White porcelain and slate or pewter ceramic tiles are like puffs of cotton cloud and cumulonimbus. Dove-gray walls keep the look sleek and coordinated, using a subtle color -- almost no color at all -- to define the contemporary bathroom and mark it as minimalist. Chrome or brushed steel hardware and faucets represent the silvered end of the hue. Use white, pewter and dove-gray as the only colors in the room and refrain from adding any black -- too definite a color for sky, with a heaviness that would break the airy spell.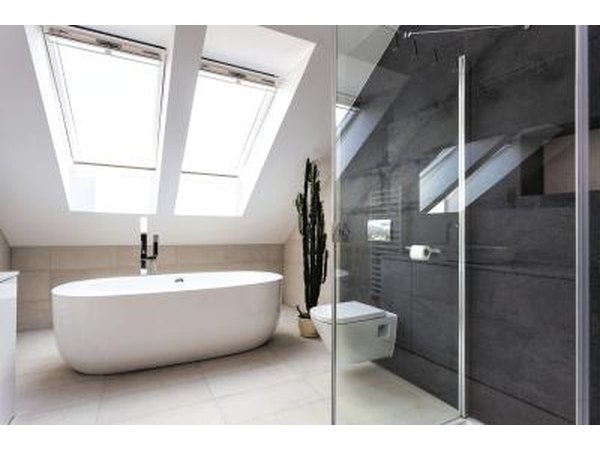 KatarzynaBialasiewicz/iStock/Getty Images
White is the classic small-bathroom color choice for a reason. With every brushstroke, you paint away the walls and create an open expanse. White bathrooms have no boundaries -- match the wall and floor tiles to fixtures and the shade of white on the walls and ceiling. An all-white bathroom makes decor choices easy because you just fill up the room with everything in white. Ensure that your white-on-white treatment is harmonious by noting the tone of the white -- cool or warm -- and keeping even a minor variation in tint or intensity in the same family.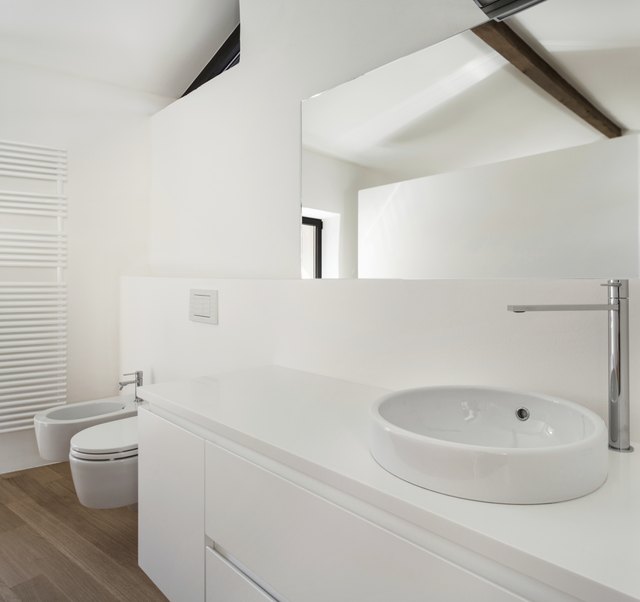 piovesempre/iStock/Getty Images
An accent wall in a petite bathroom works to make the space seem finished and spacious. A rich raw sienna is the color of both earth and fine, dark leather. Paint the main wall -- not the one broken up by the bath and shower -- opaque chocolate-brown; several coats of raw sienna should do it. Place a dark wood tansu chest against the wall, a compact Asian solution for space and storage to hold folded towels, grooming supplies and spare paper goods. The tansu "steps" could hold a potted orchid, a raku bowl or vase, or a rustic pillar candle and stand. The remaining walls in the room should be linen, or the shade of thick cream with too much butterfat. Extend the light wall color over the ceiling; limit the decor, as much as possible, to natural materials.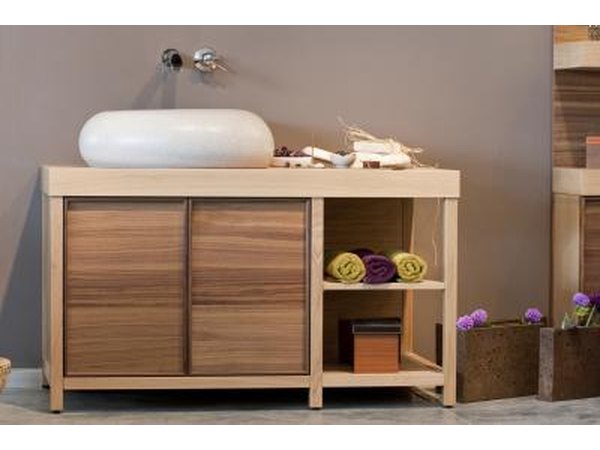 oldcity/iStock/Getty Images
Small doesn't rule out sumptuous, and tiny bathrooms can handle rich color treatments when they're precisely applied. Lacquered tobacco walls with a slab of polished petrified hardwood over a birch bark veneered cabinet holding the sink takes you to the forest. More white birch trim -- real branches -- around a large over-the-sink mirror with carefully designed lighting lets the room shimmer. A deep sapphire powder room, glazed and lightly stenciled with a gold design, is a jewel box with a border of iridescent peacock feathers painted around a mirror mounted flat against the wall.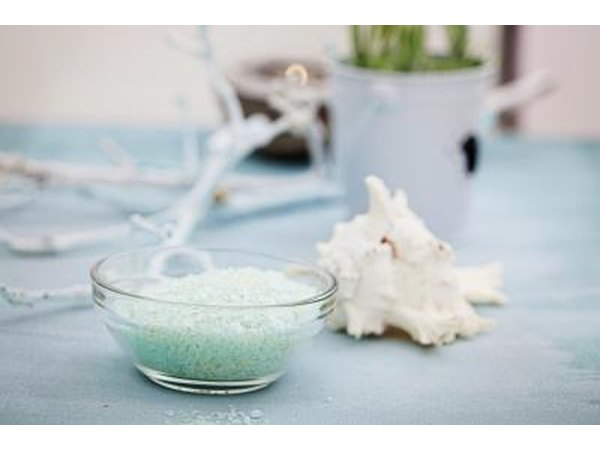 mythja/iStock/Getty Images
Promoted By Zergnet