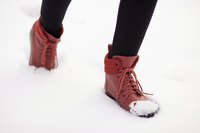 Trekking through icy, snow-covered sidewalks can leave your leather boots stained with more than just water. Sidewalk salt – while helpful for preventing you from falling on the slick sidewalk – can do a number on your leather boots, leaving behind white, ashy stains. Although the salt marks on the leather may look daunting to remove, common household products will get the stains off and your leather boots will once again look fabulous
Things You'll Need
Water
Bowl
½ cup white vinegar
Spoon
Pour ½ cup of warm water into a bowl. Add ½ cup of white vinegar. Mix well with a spoon.
Dip a soft rag into the vinegar and water mixture. Wring out the rag to remove excess liquid.
Dab the wet rag sparingly onto the salt stains. Wipe over the area with a clean, wet rag to remove any residue, then dry with a clean, soft rag. Repeat the process of dabbing with the vinegar solution, rinsing with a wet rag and drying until the salt stains are gone.
Moisten a clean, damp sponge with saddle soap if any stubborn salt stains remain. Rub it onto the spots in a circular motion. Buff the leather with a dry rag to remove any residue.