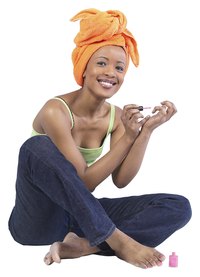 Get creative with your nails with gems, tattoos, and other nail designs. Applying them doesn't have to be difficult, but a few helpful hints can make it go a lot smoother.
Things You'll Need
Base coat nail polish
Topcoat nail polish
Colored polish
Gems, nail tattoos, decals, etc.
Begin by filing and buffing your nails until they have the shape you desire.
Paint your nails with a base coat. The best way to do this is to brush one side of the brush against the edge of the bottle as you pull the brush out. Then turn it over and sweep the brush down the center of the nail. Follow that by a stroke on each side.
Let the base coat dry, then top with a coat or two of your favorite color.
While the polish of the last layer of color is still damp, add gems, decals, or other designs. Gently press them into the tacky paint. If you miss the tacky stage, add a drop of clear polish and use it like glue to add your design.
Once your designs have been applied, protect them with a topcoat of clear polish.