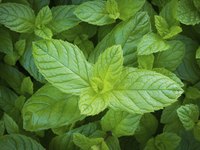 When pores get clogged with dead skin cells or bacteria, you've got inflammation and acne on your hands. Local drug stores and spas may offer all sorts of pore-cleansing remedies, but a homemade mint-leaf mask serves as a cost-effective and all-natural alternative. Applied topically, mint acts as an antiseptic and antibacterial agent, helping keep your pores cleansed and your skin bright.
Things You'll Need
Mortar and pestle
Lemon juice
Cucumber juice
Fuller's earth
Gentle face wash
Towel
Rinse about four or five fresh mint leaves and place them in the mortar, or bowl. Add a spoonful of lemon juice, which acts as an astringent and antibacterial agent, and an equal amount of cucumber juice, which packs skin-friendly magnesium, potassium and silicon.
Add a spoonful each of fuller's earth -- a mineral-rich kaolin clay available at many health and beauty stores -- and another spoonful of curd, a fattier yogurt that moisturizes and exfoliates with lactic acid. If you can't track down curd, yogurt will do the trick. Grind the mixture with the mortar until it takes on a creamy, paste-like consistency.
Wash your face with a gentle cleanser and pat it dry. Apply the mask to your face evenly, avoiding the eyes, and allow it to rest for about 15 to 20 minutes. Rinse your face thoroughly with warm water and pat it dry once again.