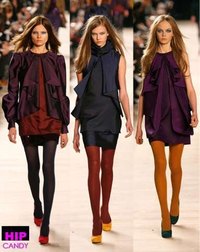 The mini dress was a fun and versatile trend when it first sashayed down the runways. And if you are a true follower of fashion, you're probably saying to yourself, "sure, the mini dress was fun and everything, but wasn't it big back in 2007?" Yes it was huge last year, and even though some fashion mags tried to kill the trend before it completely ran it's course, designers like Proenza Schouler, Marc Jacobs, Baby Phat and Doo Ri still showcased them in a huge way in their Fall 2008 collections. The mini dress is not exactly a "must have" item for every woman's closet, as they simply won't appeal to all women. But for those among us who aren't afraid to show a little leg and have a little fun with it, use the following steps to learn more about mini dresses and how to wear them.
Don't underestimate this question as the mini dress is NOT for the timid, the wallflower, or someone who is ashamed of their legs. Confidence and boldness work extremely well with this trend. The mini dress shouldn't even be attempted unless you are ready to OWN the look unapologetically. That being said, there are two ways you can wear your mini dress. With a flat shoe or flat sandal or with a heel or wedge. Wearing your mini dress with a flat shoe or sandal tones down the look significantly and gives it a more casual feel. A mini dress worn with a flat shoe or sandal gives it a "weekend out shopping look" in my opinion. It's less, "look at me!" And it's more, this is my downtime, I'm cute and I'm casual. A mini dress with a high heel stiletto turns the sexy meter up SUPER HIGH, whereas the same mini dress with a wedge heel gives it more of a throwback, retro feel. A mini dress done right, makes you notice the person, and makes you feel like, "Wow. She looks great, maybe I can look like that, too."

Determine whether you should wear your mini dress with leggings, tights, or bare legs. Whatever you are most comfortable with, go with that. Mini dresses with tights and leggings will be en vogue through Fall/Winter 2008 according to what was seen on the runways. When the weather gets colder, you're going to want to pair your mini dress with a pair of tights or leggings and even boots and a scarf. In the warmer months, layering your mini dress with a t-shirt underneath (if you like) and a pair of flat sandals and bare legs is just right for summer.

Decide how "mini" should you go. You should go as mini as what you feel comfortable with. There are mini dresses that graze the thigh (super short) and mini dresses that fall just above the knee. The key to knowing what you are most comfortable with? Try. It. On. Walk around in it, sit down, stand up, twirl, strike a pose in the mirror, bend over, do what you have to to find your comfort zone in your fabulous new attention-grabbing mini dress.