A staple at holiday dinners in Trinidad, Barbados and other parts of the Caribbean, macaroni pie is a definite departure from Yankee-style macaroni and cheese – even the baked versions. While it's not a pie in the usual sense, macaroni pie contains enough milk and eggs to create a custard that holds the cheesy pasta together, yielding firm squares when cut. Use pungent seasonings as a counterpoint to the rich, cheesy custard.
(Pamela Follett/Demand Media)
Things You'll Need
Large stockpot

Dried macaroni

Colander

Cheese grater

Chef's knife and cutting board

Mixing bowls

Wooden spoon

Cheddar cheese
Scallions (optional)

Milk

Eggs

Seasonings, such as mustard powder, black pepper, nutmeg, salt (optional)

Hot sauce (optional)

Cooking spray or shortening

Shallow baking dish
Step 1
Set a stockpot of water on medium-high heat. Once the water boils, cook the pasta according to package directions. Choose the amount of time specified for an "al dente" texture, because the pasta will continue to cook in the oven.
Pamela Follett/Demand Media
Step 2
Grate the cheddar cheese while the pasta is cooking, and thinly slice a couple of scallions, if you're using them. Set aside a small amount of the cheese for topping the mixture just before it goes into the oven.
Pamela Follett/Demand Media
Step 3
Preheat the oven to 350 degrees Fahrenheit. Grease the baking dish.
Pamela Follett/Demand Media
Step 4
Drain the pasta and put it into a large mixing bowl. For every 4 parts cooked pasta, add 2 parts grated cheese and 1 to 2 parts milk. Beat 1 or 2 eggs in a separate bowl, then gently stir them into the macaroni mixture.
Pamela Follett/Demand Media
Step 5
Season the mixture to taste. Traditional Caribbean macaroni pie calls for a heavy hand with black pepper, as well as dashes of salt, nutmeg and/or mustard powder. Drizzle in some hot sauce and toss in sliced green onions, if using.
Pamela Follett/Demand Media
Step 6
Spoon the mixture into the greased baking dish and top it with the reserved grated cheese. Bake for at least 30 minutes, or until firm. If you want a crispier topping, bake the macaroni pie for an additional 5 minutes or so.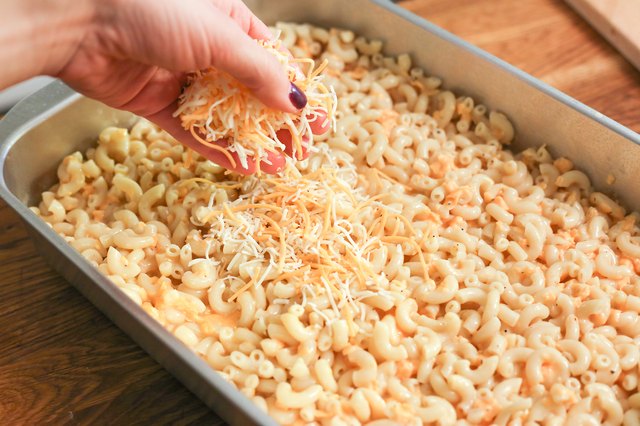 Pamela Follett/Demand Media
Promoted By Zergnet