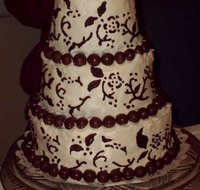 You've wanted to start a home business, but what? How about cake decorating? Everyone raves about your cakes; how beautiful they are and how delicious they taste. But baking a cake for your friend's birthday party is different from selling a cake to a client. What do you need to do?
Things You'll Need
Cake decorating equipment
Cake decorating supplies
Pictures of cakes in a binder
Web site for your business
Business cards
Record-keeping method, either paper or computer
Check with the state to see if there are regulations concerning home businesses. Some states require a separate kitchen for home cooking businesses. If the law requires it, get a tax ID number.
Determine how big you want this business to be. It's a good idea to start small and build the business as you get more proficient at cake decorating.
Stock up on cake decorating equipment and supplies; at the very least, invest in a heavy duty mixer, cake pans, icing bags, couplers, decorating tips as well as boxes to store finished cakes. Also stock up on non-perishable supplies like cake mixes, non-stick sprays, shortening, flavorings and food colorings. Make a list of other items you need or want and purchase them as you need them or begin to see a profit.
Enlarge pictures of the cakes you have decorated and put them in binder. This could be document protectors in a 3-ring binder or a pretty scrapbook.
Build a website. Include pictures of your cakes, ordering information and contact information. If possible, get comments from people about your cakes and put them on the website. Get business cards, either ordered or ones you make on a computer. Be sure to include your name and contact information.
Set up the paperwork side of the business, which would include a calendar and a bookkeeping method. These can be done by paper, but there are several good calendar and bookkeeping computer programs available that are easy to use and include everything you would need for a business. Keep meticulous records and be sure to file required paperwork with the state for tax purposes.
Spread the word about your new cake decorating business. If you are employed, contact the Human Resources Department and offer to bake cakes for corporate events. Contact local wedding and event planners. Go to wedding fairs. Advertise in the paper. Join the Chamber of Commerce.