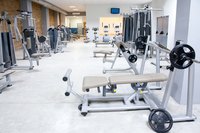 When selling a health club membership, be honest and straightforward and tout the benefits of the membership. If you are a health club customer and are selling your own membership, make sure your contract allows this. Many health club contracts do not permit members to sell their memberships. If you own a gym or work in sales for a gym, have fun, smile and be respectful. Think unconventionally and form alliances with other businesses. You help them, and they help you.
Identify what kind of health club you have and whom you want to be members. For example, your gym might cater to everyone or be primarily for weightlifters or for people with children.
List your health club's features. For example, your health club might offer a variety of pricing and membership structures, fitness classes, three free personal training sessions, free child care for up to two hours a day per child, family member discounts, TVs attached to treadmills, indoor and outdoor pool, and 24-hour service. Also think outside the box. For example, you can show statistics that say many health clubs are filled with germs, but yours is not because your workers wipe down machines at least every hour and you provide sanitizers for members' hands and for machines.
Set up a website and have a presence on social network sites. Your website could have a tour of the gym and many photos. The website should have clear contact information and a listing of hours; it also should explain pricing structures and membership benefits.
Reach your audience members where they are. For example, if your health club caters to working parents, make an agreement with day cares. You can advertise through them and tout the fact that your gym provides free child care up to a certain period every day (if it does). Use brochures and posters at the day care. The day cares benefit because you have information and advertisements for the day care at your gym (and you could give these day care workers free or reduced memberships). If you want to draw older customers, have defibrillators and similar equipment on-site. Always have personnel trained in CPR and other first aid techniques. Set up salespeople at grocery stores, health stores and pharmacies.
Offer a no-strings trial membership. The length is up to you; it could be a one-session visit or unlimited visits for a week or a month.
Promote your flexible pricing and explain the different pricing structures, if you have them. Offer promotional periods where members do not have to sign contracts at all and/or where they can get a free month (or several). If possible, have all memberships without contracts (or have flexible contracts). People might be more likely to sign up if they know they can cancel anytime or if they lose their jobs. If you have a contract, keep it simple. Avoid jargon.
Provide membership discounts for people in certain professions, such as teaching and firefighting. Contact businesses to see whether they will recommend your gym in exchange for you giving their workers a membership discount, such as 5 percent.
Be honest with potential customers. Do not mislead anyone about something your gym does not provide. Tell your sales staff that while making sales is important, so are business ethics. Tell your sales staff not only to tell customers what the gym can do for customers, but ask customers what they want to see from the gym. Provide excellent customer service and address customer concerns as soon as possible. After all, you want positive word of mouth.
Give existing customers incentives to refer potential customers. For example, for every five customers a member refers, she might get two free months' membership or a gift card or some other reward.