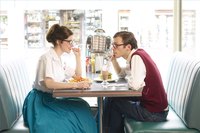 How to Wear Poodle Skirts. Poodle skirts are fun clothing items that many people wear to revive the 1950s. Made of felt material cut in a wide-swing pattern, these skirts typically have French poodle designs in the front. Although these skirts also featured other designs, such as flowers and flamingos, the poodle pattern is the most memorable from that era.
Things You'll Need
Poodle skirt
Ruffle petticoat or slip
White canvas lace shoes
White bobby socks
Neck scarf that matches the color of the skirt
Wear a ruffled petticoat or slip under the skirt to make it poof out. A slip with a drawstring waist and at least two tiers of ruffles will have the best effect. See a photo of an undergarment at Bad Fads Museum (see Resources below).
Situate the skirt so that the poodle design is in the front but off-center, rather than placed in the center.
Wear a short-sleeved blouse that can complement the skirt. If the skirt is dark in color, then a white or light-colored blouse will look nice. If the skirt is pastel colored, then match it with a black blouse.
Tie a scarf around your neck so that the ends of the scarf hang down, as shown at Pookeysnoo.com (see Resources below). The color of the scarf should match the color of the poodle skirt.
Wear a pair of white, canvas lace-up shoes with a pair of white bobby socks.