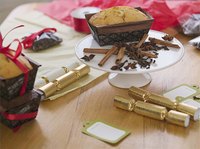 How to Start a Cake Business. If you are a gifted cake baker and decorator and you would love to share your creations with others, consider starting a cake business. People need cakes for a wide variety of occasions, including weddings, anniversaries, birthday parties and more. You can make good money if you are talented, plus you can work from home. Read on to learn how to start a cake business.
Gather the necessary supplies. You probably already have an oven, a mixer and some of the basic baking tools. However, you will need to purchase some specialty cake decorating tools, too. Get plenty of baking pans in a variety of shapes and sizes, as well as icing flutes and spatulas.
Invest in a cake decorating class if you want to hone your skills. Many community colleges, cooking schools and even grocery stores offer affordable classes. A class is a great way to brush up on old techniques and learn new ones.
Practice, practice, practice. Test various cake and frosting recipes until you find the best. Try out different frosting techniques until you have mastered them all. Even after you have launched your business, keep practicing so your skills remain fresh and you continue to grow.
Spread the word. One of the best ways to advertise your new business is word-of-mouth. Tell your friends and family. Once you have provided cakes for a couple of events, those people will refer others to you. Print up some business cards with your contact information so you can give them to your customers and they can pass them on to others.
Start a website with pictures of your work and pricing information. If a customer is interested in your service but wants to see some examples of your work, you can simply refer them to your website. Of course, if they want a taste sample, you will have to actually bake them something.