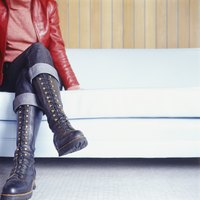 Just as your skin needs extra pampering to protect it from scorching heat or cold weather, your weathered, distressed leather boots need protection from the elements too. Dry climates and ice are especially tough on leather, and the damaging effects can be seen in less than a season. The key to keep your leather looking healthy and supple for years involves gentle cleansing and thorough conditioning -- same as for your skin. The thinner, softer or older your leather boots are, the more often they'll need some TLC.
Things You'll Need
5 to 7 small lint-free cloths
Saddle soap
Lanolin conditioner
Shoe polish
Nonsilicone stain and water protector
Newspaper
Rub the leather surface of the boots in a circular motion with a slightly damp cloth to remove any caked-on dirt, grime or salt. The surface of your boots should be moist when you apply soap.
Open the tub of saddle soap and massage the surface of the soap with a clean, damp cloth. You should see a light lather -- if not, re-wet your cloth.
Rub the saddle soap into the leather in small, circular motions. The soap should create a thin white layer on your boots. Buff your boots with a clean, dry cloth after the saddle soap has dried.
Squirt or spread a small amount of lanolin conditioner onto a clean cloth. Gently rub the cleaned surface of your boots with the conditioner, concentrating in the areas where the boots crease and the area at the toe of each boot where the leather bends as you walk. Buff lightly in circular motions to remove streaks.
Apply a small amount of cream shoe polish to a clean, dry cloth. Use a matching color for darker leather or a neutral polish for lighter leather. Buff the surface of the conditioned boot in small circular motions to prevent streaks. Allow the polish to dry for 15 minutes, and then buff with a second clean cloth to provide sheen.
Hold the can or bottle of nonsilicone water and stain protector 10 to 12 inches from the surface of your boots. Spray lightly and evenly to protect from water damage and future stains.
Stuff the boots with sheets of crumpled newspaper to make them stand up straight. When tall boots are allowed to fold over, this can create creases in the leather. Newspaper also helps absorb excess water from slightly wet boots.