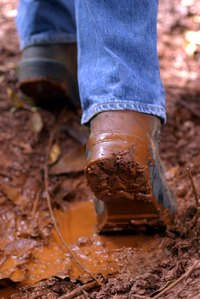 More than likely at some point you'll get mud on the soles of your shoes. It might be tempting to grab a rag and start wiping the mud off, but this will only make the problem worse and spread the mud around. Wait for the mud to dry before attempting to clean it off the soles. Cleaning will be easier and the mud won't get on unaffected areas of the shoes.
Things You'll Need
Hold the shoes over a trash can or go outside and hit the soles against one another a few times. This will help knock off some of the mud, making cleaning easier.
Brush the soles with a dry scrub brush until no more mud is falling off the shoes. If the soles have grooves or crevices, scrub with an old toothbrush.
Moisten the scrub brush and/or toothbrush with water. Put a few drops of dish soap onto the brush.
Scrub the bottoms of the shoes with the brush and soapy water to remove any caked-on mud. Rinse the soles with a wet rag, then go over them with a dry rag to remove moisture. Leave the shoes sitting upside down to air-dry completely.