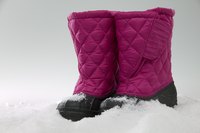 Cities keep roads and sidewalks free of ice during the winter months by applying hundreds of pounds of salt to affected areas. This means that any pair of boots you wear during the winter can suffer from insidious salt stains engrained into the boot fibers. Keep salt stains from boots of all materials with household items that are both safe and natural.
Things You'll Need
Clean, soft cloths
Small bowl
White vinegar
Remove any excess dirt or grit from the boots with a clean, damp cloth before trying to remove the salt stains.
Combine 2/3 cup of water with 1/3 cup of white vinegar in a small bowl.
Dip a soft, clean cloth into the vinegar mixture and apply it to the salt-stained areas. Move the cloth in a gentle circular motion to get the vinegar mixture into the material. Blot away the mixture with a dry corner of the cloth once you have covered the entire stain.
Allow the boots to dry in a cool, dry area away from direct light or heat.
Reapply the vinegar mixture again after the shoes have dried completely. In some cases, you might have to apply the mixture three or four times to completely remove the stain.
Spray your boots with a waterproof spray after they have dried completely. Apply an even layer over the entire exterior to keep salt stains away. This protective barrier will help keep salt from lodging in the fibers and should ideally be applied before encountering any messy weather.