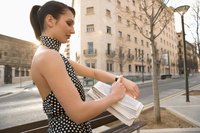 Every watch eventually develops hairline scratches along the case and bracelet. Many people ignore these mild imperfections, chalking them up to normal wear and tear. If you're tired of looking at these scratches and long for the look of a new watch, toothpaste is a proven household remedy -- even if the watch features diamonds.
Things You'll Need
Well-lit work surface
Conventional non-gel toothpaste
Clean soft-bristle toothbrush
Clean damp cloth or towel
Clean polishing cloth
Lay the watch down on a smooth, well-lit work surface.
Squeeze a pea-sized bead of toothpaste onto your polishing cloth.
Rub the toothpaste on your diamond watch, working perpendicular to the scratches. If the scratches are all over the piece, rub in a circular motion. The toothpaste will not harm the diamonds.
Work the paste into hard-to-reach areas of the watch, such as between bracelet links and around the diamonds themselves.
Wipe off as much residual toothpaste as possible, using a clean corner of the cloth.
Check the water resistance rating of your watch, typically engraved on the back plate. If it specifies at minimum "30M" or "50M," run the watch briefly under the faucet at low pressure. Otherwise, wipe away excess toothpaste with a damp cloth.
Blot-dry the piece with your polishing cloth. Don't use a paper towel, as these tend to be too abrasive -- leaving fine scratches all over the piece you just polished.