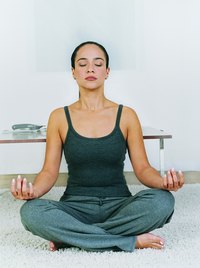 Sweatpants and linen trousers often feature drawstrings, used in lieu of belts. On occasion, these cords get stuck inside the pants, requiring you to dig in the waistband to remove it. Should this happen to you -- and it will at some point -- it's pretty straightforward to get your drawstring-equipped pants back into rotation.
Things You'll Need
Needle nose pliers
Medium-sized safety pin
Coat Hanger Method
Pull out the drawstring entirely from the pants.
Cut the hook from a wire hanger. Bend it by hand so it achieves a mild curve.
Make a small hook at one end of the hanger, using your needle nose pliers.
Slip one end of your drawstring into the hook. Squeeze the hook just enough to secure the string, so it won't pull free as you push it back through your waistband.
Slip the hooked end of the hanger into one side of your pant's waistband.
Push the hanger though the waistband, occasionally scrunching up the fabric to help to get it through.
Unbend the hook with your pliers. Pull the hanger the rest of the way through, while holding onto the drawstring.
Tie a knot at each end of the drawstring to help prevent this from happening again.
Using a Safety Pin
Pull the drawstring the rest of the way from the sweatpants.
Open the safety pin. Poke the needle end of the pin through one end of the drawstring.
Close the safety pin. Insert the pin into the drawstring casing in the sweatpants. Scrunch the fabric as needed, gripping and pushing the pin while guiding it though.
Pull the pin from the other end of the drawstring casing.
Remove the safety pin. Adjust each end of the drawstring for equal length.