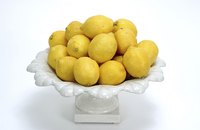 Cleanse your skin naturally with a mixture of cucumber, lemon and honey. When you whip up your own face wash in the blender, you know it's as fresh as possible. Pulped cucumber is soothing and cooling, while honey acts as a natural antiseptic and moisturizer. Lemon juice, which has a mild bleaching effect, can help lighten slight skin discolorations, according to ZocDoc.com. It's also a natural exfoliant and astringent, which may be beneficial to acne-prone skin.
Things You'll Need
Vegetable peeler
Knife
Juicer
Cut the skin off a small cucumber with a vegetable peeler, then cut the cucumber into thick slices with a knife.
Slice a lemon in half and squeeze the juice out with a citrus juicer. Remove the seeds from the juice. Any pulp that goes into the juice is fine; you do not have to strain it.
Put the cucumber slices into a blender. Pour in the lemon juice and add 1 tablespoon of raw honey. Puree for 10 seconds or until the mixture is a thick pulp.
Remove the mixture from the blender and spread it over your face. Lie back and wait five minutes, using the face wash as a mask.
Massage your skin with your fingertips as you would when washing your face with cleanser. Rinse your face by splashing it with cool water and pat it dry with a clean, soft towel.