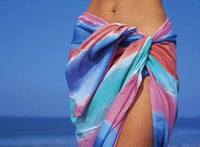 A long, silky scarf adds a layer of softness to any outfit, but in the summer, you can use a colorful scarf as a swimsuit cover-up too. This kind of Brazilian-style scarf wrap only takes a few seconds to master. A handy scarf is the ideal go-to accessory if you need coverage in a hurry for a walk to the pool or along the shore. Fringed edges and decorative embellishments like beads add to the exotic look of a Brazilian wrap.
Fold the scarf in half making a triangle shape. Smooth out any wrinkles with your hands.
Position the scarf behind you, covering your bottom. Do not pull the scarf too tightly. Leave the fabric slightly loose so that it flows along the lines of your body.
Gather the two ends of the scarf at your right or left hip. The scarf should rest evenly on your side.
Twist the ends slightly. Tie the ends together, pulling one side over the other. Move the scarf around your body to get the look you want.
Secure the scarf on your hip with a knot.