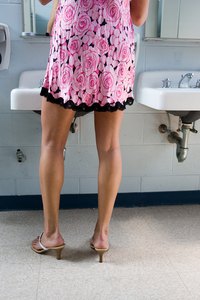 It's happened to the best of us. We put on a fresh pair of high heels and head out to an outdoor wedding. Upon arrival, one thought sinks in: there's going to be a lot of traipsing in soft grass. Inevitably, your pretty new heels are now soiled with mud as you sink into the ground with every step. But don't despair; With just a few simple cleaning supplies and some patience, the mud can come loose from your heels. The first line of action-- whether your heels are leather, suede or satin-- is to wipe fresh mud off with a napkin or paper towel just as soon as you can.
Things You'll Need
Warm water
Hand soap
Clean cloth
Blow dryer
Leather conditioner
Fine file
Suede brush
Leather Heels
Lightly dampen a clean cloth with water. Apply a drop of hand soap onto the cloth and create a small lather with your finger. Rub the cloth up and down the heel, with minimal pressure, (Reference 2) to relieve the stains.
Place a small amount of water onto another section of the cloth. Wipe the soap lather away.
Take a dry section of the towel and gently rub away the leftover water. Pour a small amount of leather conditioner onto another section of the towel. Gently rub the ointment into the heel to create a fine luster. This can return the heel to its original state.
Satin Heels
Dampen a dry cloth with water. Blot the stains gently, starting at the top and moving down the heel. Move in the direction of the grain and be careful to dab, not rub, the mud. Doing so can cause the mud to penetrate the satin even deeper. (Reference 1)
Look at the heels under a bright light. If dirt is still present, add a bit of hand soap to a wet cloth and gently rub in circles until it forms a lather. (Reference 1) Place the cloth onto the leftover stains and gently dab until the dirt stain is gone.
Wet another section of the cloth with water. Dab the parts where soap appears. Make sure to thoroughly clean off the soap by applying pressure. (Reference 1) Take a clean cloth and dab the moisture. Set a blow dryer to its lowest heat setting and dry the damp areas. (Reference 1)
Suede Pumps
Use a nail file to scrape dry mud off of suede shoes. Dampen a clean cloth rag with water and gently rub the cloth onto the suede heel to loosen additional dirt.
Apply a small amount hand soap to the cloth, if mud still remains, and rub into a lather. Gently place the cloth onto the mud stain and work in small strokes to remove any leftover dirt. (Reference 2)
Wet another section of the cloth with water. Use moderate pressure to wipe the soap away. Blot the excess water with a dry cloth. Allow the suede heel to air dry. Afterward, use a specialized suede brush to restore the suede's nap, following the pattern of the suede. (Reference 2)