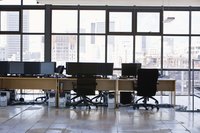 Raise your hand if you love the idea of having your legs, work product or personal business exposed for all of your colleagues to see. Thought so. Unfortunately, this scenario results frequently when office design engineers try to fit a growing staff into a finite amount of space that meets corporate mandates but leaves staff exposed in more ways than one. Whether your desk is part of an island or you sit alone with no wall or cube units to shield you from exposure, address your unique issue by making desk privacy shields.
Things You'll Need
Lumber
Bamboo roll
Carpentry tools
Nails
Stain
Artwork
Plywood
Fabric
Bookcase
Plants
Cardboard
Paint
Assess the areas surrounding your desk to determine the type and size of the privacy shield you'll need to protect you or your assets from view. Undertaking a privacy shield project that literally obscures you requires more design, forethought and materials than does a modesty panel that hides only your legs or a unit that separates you from colleagues occupying a clustered desk arrangement. Sketch out a rudimentary design and, if you plan to install a privacy shield at a place of business that you don't own, obtain the blessing of your boss before you break out the carpentry tools.
Craft a desk privacy shield that's the equivalent of an outdoor bamboo fence to hide your entire work area from view. Frame up a square of wood that meets the dimensions of your sketch, using 2-by-2-inch sections of pine lumber to erect the frame. Nail a section of 4-by-8-foot tall bamboo fencing to the framework, stretching the bamboo across both sides of the unit if you intend to finish both sides. Stain the exposed wood framework to match the bamboo before adding two floor braces to the unit so it's able to stand upright like a prefabricated cube wall without support or fasten one side of the bamboo shield to a wall so it remains upright.
Cover just the portion of the desk that falls below the desktop. Nail or otherwise attach a large piece of framed artwork to the front desk edge so it rests on the floor to put an artistic spin on the area that exposes your legs. Make a cheaper version of this panel by wrapping a section of plywood with fabric, using crafting glue to bond the two. Position a low bookshelf in front of your desk so formerly unused space acts as storage for software, books or baskets of office supplies while hiding your legs. Another way to handle the challenge is to line up pots of easy-maintenance plants in front of your desk as you would if you sought to create a privacy shield in your backyard.
Find a decorative solution for positioning privacy shields atop your desk that gives you and your "island mates" much-needed privacy. Take a page from catalogs of desktop units employed by schools: Use cardboard, chipboard or other lightweight materials to construct desktop carrels that can be as tall as 24 inches. This type of privacy shield design requires three panels: the middle panel that spans the length of the desk and two returns that hold the unit in place. Make one or more and paint each one a subdued color that matches the desks or give multiple units personalities by painting them different colors before propping them up to shield each desk mates' work area.