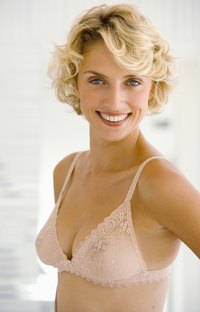 Cleavage is the space between the breasts that is exposed when wearing a low-cut neckline. It adds sex appeal and drama to any outfit. Bigger breasts have more cleavage because the breasts are more pronounced and the space between them is more obvious than on small breasts. Cleavage is considered a very feminine and sexual attribute. Although small breasts tend to lack cleavage, there are ways to enhance and contour your breasts to make them look bigger and create more cleavage.
Things You'll Need
Padded bra
Silicone bra inserts
Corset
Bustier
Face powder
Bronzer
Makeup brush
Makeup sponge
Wear a padded, push-up bra. These types of bras have foam or gel padding in the cups that push your breasts upward. This makes your breasts and cleavage more prominent.
Wear silicone bra inserts. These are removable silicone padding that can be placed in any bra. Much like a padded bra, the silicone padding pushes your breasts upward, making your breasts look bigger and the cleavage more prominent.
Wear a corset or bustier. These are fitted undergarments designed to cinch in the waist and push the breasts upward, creating more cleavage and making the breasts look fuller. These garments also tend to push the breasts together rather than separate them, which makes the cleavage more obvious.
Apply a medium shade of face powder or bronzer in between your beasts with a round makeup brush. Using long strokes, create an inverted triangle with the powder or bronzer in between your breasts to draw the eye to your cleavage.
Apply a lighter shade of face powder or shimmering powder to the tops of your breasts, your shoulders and your upper chest. This will highlight these areas and create a contrast between your cleavage and breasts, making your breasts look more pronounced. Blend the lighter shade and medium shade with a makeup sponge for a more natural look.