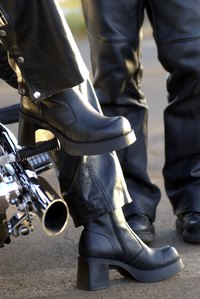 Leather boots lend a classy look to almost any man's or woman's outfit. If you wear your leather boots often, sweat and bacteria build up inside, creating an unpleasant odor. You can use a few common supplies, like baking soda, coffee grounds or cat litter, to make your leather boots smell fresh and clean.
Things You'll Need
Baking soda
Coffee grounds or coffee beans
Clean cat litter
Charcoal briquettes
Nylon leggings
Cellophane
Washable insoles
Sprinkle baking soda into each leather boot. Shake the boots around to cover the entire surface. Cat litter also works to absorb odors; use it in the same way as baking soda. Remove the baking soda or cat litter after one or two days.
Fill nylon socks or leggings with 1/2 cup coffee beans or grounds. Tie the socks closed at the top and place each coffee-filled sock into a boot. Leave the coffee in the boot for two or three days until the sweat smell disappears, and then remove it.
Place charcoal briquettes in nylon leggings. Tie the leggings closed and leave the charcoal in the boots for up to one week. This absorbs most sweaty smells.
Vacuum the inside of each boot with a vacuum cleaner hose attachment. This removes dried sweat.
Wrap the boots in cellophane and put them in the freezer for up to two days. The boots smell clean when removed.