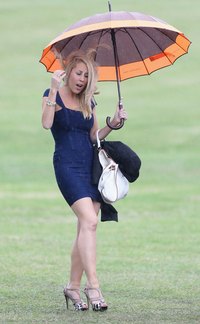 Wet and salted roads can reek havoc on dress shoes. Whether your shoes are suede or leather, they need to be cared for in a similar manner. When shoes are new they should be preconditioned to help prevent water damage, and they should be stored away from a heat source in a dry, well-ventilated area. But it they do get waterlogged on that walk from the restaurant to the car, there is an easy fix to restore your shoes.
Things You'll Need
Newspaper
Bowl
Vinegar
Water
Sponge
Suede brush
Leather polish
Stuff wet shoes with dry newspapers.
Mix together equal parts of vinegar and water in a bowl. Dip the sponge in the bowl and wring it out until it is just damp and not soaked.
Lightly sponge over the entire shoe. Doing the entire shoe, even if it is only partially wet, will eliminate the possibility of a water or salt line on any one area of your shoe and will keep the shoe color uniform. Repeat the process for the other shoe.
Let the shoes dry completely, away from any heat source. Leather usually takes about 24 hours; suede may day a few days.
Brush suede shoes or polish leather shoes when completely dry. This will return them to their former luster.