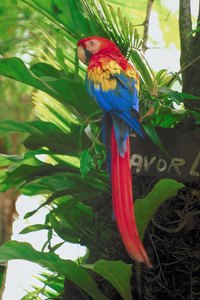 Use a "do-it-yourself" approach to design and create an inexpensive jungle theme room in your home. Select a child's bedroom or playroom and redo everything -- furniture, paint colors, linens and decor pieces -- to resemble a colorful, animal-filled jungle environment. Create a budget, shop clearance items and do all of the manual labor yourself, for a DIY home project that is inexpensive but not cheap-looking.
Repaint the walls in the jungle-theme room for an inexpensive way to make a big visual difference in the appearance of the space. Paint the walls a medium blue and use brown and green paint to create large jungle trees, stretching from the floor to the ceiling. Continue this on all four walls in the room to create the feel of being surrounded by tall trees and foliage. For a less labor-intensive option, paint the walls a solid color, such as blue, green or brown, and place a jungle-theme wallpaper border around the middle or top of the walls.
Shop clearance sections for jungle-theme bedding or opt for a solid color bed set, such as brown or green, in a child's jungle bedroom. Decorate the bed with stuffed jungle animals or jungle-theme throw pillows. Choose jungle animal fabrics and make easy custom pillows in the room. Use a flat bed sheet in a jungle pattern, hung from a curtain rod over the window, for an inexpensive curtain option. Attach small vinyl window decals of animals, such as monkeys, lions and tropical birds on the window pane to reflect colored light and silhouettes in the room.
Frame jungle-theme art to decorate the walls of the room. Cut out large squares of jungle-theme fabric or wallpaper and hang them in brown frames. For a budget-friendly option, cut out pictures of jungle animals from nature magazines to frame or have a child draw and color his own custom jungle art to display in the room.
Install basic shelving in the room and display jungle-theme stuffed animals, such as lions, tigers and elephants, as well as a variety of animal figurines. Use storage bins in material such as wood, bamboo or woven baskets to organize items in the room.