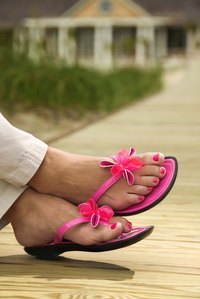 Don't hide your feet because of dead skin. Instead, get rid of the dead skin on your feet using basic pedicure tools. Pedicures are a popular salon service but can be easily done at home by anyone. Not only does a pedicure remove dead skin from your feet, but it is also very relaxing and will boost your confidence in how your feet look. Show off your newly pedicured feet wearing stylish sandals and strapless shoes.
Things You'll Need
Pumice stone
Foot moisturizing cream
Exfoliation cream
Abrasive foot file
Bathtub or water containers
Borax
Warm water
Soak your feet in warm water for 10 minutes. Add 1 tsp. of borax per gallon of water, as this will help soften the skin on your feet. Soak your feet in the bathtub, a bowl or water basin.
Exfoliate by rubbing a foot scrub all over your feet. Massage the feet and pay special attention to dry areas. Rinse your feet.
Buff areas of dry skin on your feet using a pumice stone or abrasive foot file. Be careful not to rub too hard, just firm enough to loosen up the dead skin. Buff the bottom, sides of your feet, heels and your big toes.
Rinse feet and pat dry using a towel. Apply a moisturizing cream to your feet, using a quarter-sized dollop to begin. Rub it in until it is absorbed, applying more moisturizer if need to ensure an even application.