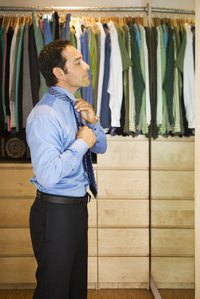 Dry cleaning wool dress pants can cost a fortune, especially if you wear them on a regular basis. Learning how to wash your own wool dress pants will not only save you a lot of money, it's also more convenient to launder them yourself and not wait for dry cleaning. A few simple steps will keep your wool dress pants clean and ready to be worn at a moment's notice.
Things You'll Need
Mild laundry detergent like Woolite
Rubber tub
Clean towel
Wooden pants hanger
Fill rubber tub with cool water, approximately a gallon, and add one tbsp. of mild laundry detergent like Woolite.
Submerge wool pants in the sudsy water and gently agitate the pants in the water with your hands.
Dump out the sudsy water from the tub after the pants have been washed and fill with cool, clean water. Rinse wool dress pants thoroughly.
Wrap the pants in a clean towel and remove as much excess water as possible. Do not pull or tug at the pants because it may cause them to stretch.
Hang on a wooden pants hanger upside down from the cuff and let air dry in a clean space like a laundry room or basement.