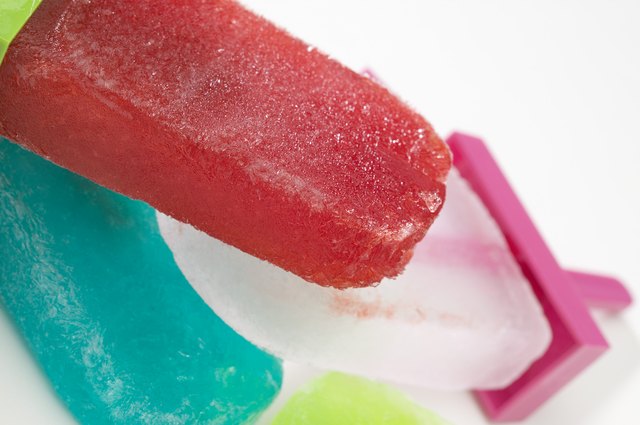 All summer, kids in the neighborhood play in our yard. And I love to have a healthy treat for them.

— Amy Roskelley, mother of three
As a busy mother of three, Amy Roskelley knows that her kids love frozen desserts, especially on a hot summer day. But Roskelley was not a fan of the choices, from ingredients to cost, when it came to store-bought Popsicles and ice cream. "When we can grow our own fruit to make a Popsicle, it's practically free," Roskelley says. "To buy a box of all-fruit frozen pops is outrageous."
To avoid the unhealthy ingredients in store-bought desserts, Roskelley and her family started making their own frozen desserts at home. They discovered that the process was not only fun but easy. With a little practice and a little patience, busy moms like Roskelley can make nutritious Popsicles and ice cream for their families to enjoy.
The Popsicle, Revolutionized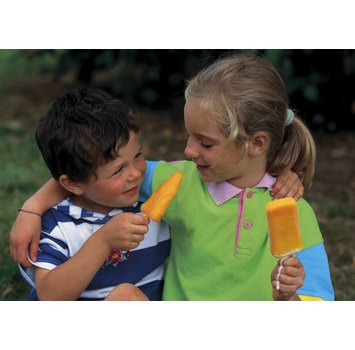 "The reason we make our own frozen desserts is number one for the health benefits," says Roskelley, who owns the Super Healthy Kid website. "Adding good ingredients like whole fruits and vegetables, while taking out unnecessary ingredients like added dyes, fats and sugars, is possible when we make our own."
One of the easiest and healthiest desserts to make is the Popsicle. Because the nutritional value of fruits is preserved when frozen, The Skinny Chef, Jennifer Iserloh, says, Popsicles are a great way to get children to eat fruit. Using kefir, a yogurt-like drink with 10 probiotics, is an easy way to enhance the nutritional value of this treat.
"With kids who get a lot of colds or if they have allergies, sometimes their immune system can be off, so the bacteria in kefir are important for balancing the bacteria in your stomach and that in turn helps your immune system," Iserloh says. One of her favorite Popsicles to make is with vanilla kefir, fresh orange, fresh orange zest and orange extract, and a little white sugar. Blend the ingredients and pour into a Popsicle mold.
When it comes to kids, the look of the Popsicle is just as important as the taste, which is why Iserloh often will create a tricolored Popsicle in which one layer is raspberry, the next vanilla and the final, orange, for example. Simply pour the first layer in the mold, let it freeze for an hour, and then add the next. "Sometimes even if the taste isn't 100 percent, they won't complain and they'll still eat it if it looks really cool," Iserloh says.
Ice Cream Envy
Making ice cream at home may seem like a more daunting task to take on, but the process is worth it for the nutritional value and fresher taste. "Store-bought ice cream doesn't get eaten very quickly at our house because the flavors aren't as bold, the texture is more waxy," Roskelley says. "With our homemade ice cream we can add real strawberries or real vanilla beans. Plus, we can control the amount of sugar without using an artificial sugar substitute." The texture issues that Roskelley describes are probably from the gums that are added to store-bought ice cream, Iserloh says. "Gums aren't really harmful to your health, but they give it a different feel," she says.
The most intimidating part of the ice cream-making process can be making the anglaise, says Breanne Varela, pastry chef for Tavern restaurant in Los Angeles. "People often fear cooking the yolks on the stove for fear of curdling," Varela says. "The truth is you will probably mess up a few times, but once you get the hang of it, you're good to go. Practice makes perfect."
Once you've mastered making the basic vanilla, you can get adventurous with your mix-ins. Be bold and try new fruits or even vegetables. Adding corn or sugar snap peas can help children eat their vegetables without even noticing.
"Don't be afraid to make something that might sound weird, like an herb-flavored ice cream. It's a great way to expand your culinary horizons," says Sara Engram, co-author of "Spice Dreams: Flavored Ice Creams and Other Frozen Treats."
For added nutritional value, Iserloh recommends adding a little ground flaxseed to your ice cream mixture. Not only is it high in Omega-3 fatty acids and fiber, but it also works as a thickener.
No matter what ingredients you decide to work with, try to focus on getting high-quality items, advises Varela, who encourages ice cream makers to use Tahitian vanilla beans and the best quality chocolate, dairy and eggs possible.
"The hard part is the waiting time," Roskelley says. "We have to decide early in the day that we want to make Popsicles or ice cream, because we end up waiting for it to freeze."
When making ice cream, planning is the key to success. There are many great ice cream makers on the market. Varela recommends the KitchenAid stand mixer ice cream attachment, which she uses. However, it does require that the freezer bowl be frozen for several hours, or, for best results, overnight, before it can be used. "Sometimes when you have a craving for ice cream, waiting for the bowl to properly freeze before diving in is the hardest part," Varela says. "It's like waiting for the cake or cookies to cool before just tearing right in." Varela suggests leaving the bowl in the freezer at all times so you can have it ready whenever you are. In the same way, Engram points out that you really need to let a cooked custard cool in the fridge for a full four hours or so. Otherwise, most home ice cream machines will have a harder time getting the custard to freeze.
Now that Amy Roskelley has mastered the basics of making frozen desserts, she loves exploring new flavors for the whole neighborhood to enjoy.
"All summer, kids in the neighborhood play in our yard," Roskelley says. "And I love to have a healthy treat for them."
Photo Credit Jupiterimages/liquidlibrary/Getty Images Stockbyte/Stockbyte/Getty Images
Promoted By Zergnet
"Spice Dreams:Flavored Ice Creams and Other Frozen Treats"; Sara Engram and Kimberly Toqe; 2010