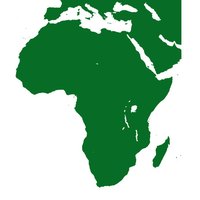 Africa is a vast continent whose inhabitants speak many different languages, practice a variety of faiths and belong to tribes with unique cultural differences. There is not one type of traditional African clothing but many that have similarities. In general, the warm temperatures and abundance of sunshine means traditional African clothing is brightly colored, loose fitting and made from natural fibers.
Boys Clothing
Traditional African garments for boys include the danshiki or dashiki, a long embroidered or printed shirt that hangs to the upper thigh and is worn with pants, jeans, or sokoto -- a type of traditional, loose-fitting trouser. In northern parts of Africa, such as Morocco, males wear the thobe, a long, loose dress that is usually worn with sandals and a headscarf or hat.
Girl's Clothing
Women and girls wear a caftan (or kaftan), a wide-fitting dress designed to hide the shape of the body, largely for modesty's sake. They often come with a matching headscarf called a gelee. Also popular is the wrapper, a piece of light fabric repeatedly wrapped and pleated around the body.
Styles and Fabrics
There are similarities in style between what children wear in Africa, Asia and the Middle East. Kaftans are popular in Africa and Asia, while the thobe is common in the Middle East and north Africa. In Africa, clothing is characterized by colorful prints and embroidery. Among those who can afford them, fabrics such as silk and Egyptian cotton are preferred.