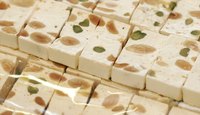 Cocoa butter is the fat extracted from the cocoa bean used in baking and personal care ingredients. It is often found in cleansing products due to its ability to be easily absorbed into the skin without leaving a greasy residue.
Why
At times, consumers do not want their personal care products to have the strong, distinctive aroma that accompanies unprocessed cocoa. In order to reduce the sharp scent of natural cocoa, a deodorizing process is sometimes used. This eliminates the odor-causing components but leaves the other desirable properties of the cocoa untouched.
How
Cocoa butter is deodorized by injecting steam into melted cocoa butter. The components that contribute to the cocoa odor are then reduced or even eliminated entirely. The remaining butter is combined with earth clays in a delicate filtration process. These clays help remove the brown color of the cocoa butter so that individuals or manufacturers may make the final product whichever color they please.
Benefits
Deodorized cocoa butter has several properties that make it an ideal ingredient in your skin care regimen. The faint or nonexistent scent is helpful to those with allergies or those who are especially sensitive to strong odors. In addition, cocoa butter contains antioxidants that increase cell turnover in skin, thus creating or enhancing a youthful appearance.