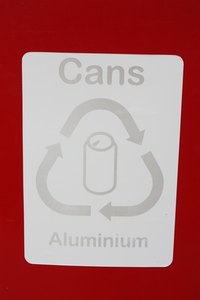 Most Michiganders are familiar with recycling soft drink containers, because the 10-cent per can or bottle deposit has most of us collecting our bottles to return for cash at supermarkets or gas stations. But recycling in Michigan goes beyond this program.
Bottle Deposit Law
Since 1978, every can or bottle of soda and alcoholic drinks sold in Michigan has incurred a 10-cent deposit fee, to be reimbursed upon returning the empty and clean container to any store that sells those products. This has resulted in an almost 97 percent refund rate as of 2008 (this amount includes cans purchased elsewhere and returned in Michigan). The law allows returns of up to $25 worth per store per day, and many stores have rooms or areas set aside for automatic refund processing.
Residential Recycling
There is no statewide program for recycling everyday waste such as paper and cardboard, but most counties have local programs that include curbside pickup, drop-off stations or both. Michigan's Department of Natural Resources website has links to information for all local programs by county. According to Bottle Bill.org, curbside pickup programs serve 25 percent of the state's population. These programs will usually have provisions for hazardous household waste.
Composting
Composting is generally not part of residential recycling services, but the state maintains a list of registered composting facilities. It is the duty of the producer of compostable waste to deliver the yard clippings to composting facilities.
Electronics
As of 2008, the Electronic Waste Takeback Program requires all companies that manufacture new TVs and computers for sale in Michigan to register with the state and take in old electronics from consumers and small businesses for recycling. This service must be free and easy to use, and must be detailed on the manufacturer's website. Only electronics from registered companies can be sold in Michigan.