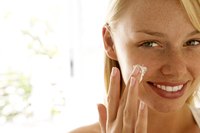 Shea and cocoa butter are both derived from plants, and they are popular components in the cosmetic and confectionery industries. However, their chemical properties and uses differ.
Shea Butter
Shea butter comes from seeds produced by the Karite tree. The American Shea Butter Institute states that shea butter has a higher percentage of "unsaponifiable matter" than cocoa butter, meaning it contains a greater amount of vitamins A, E and other nutrients.
Cocoa Butter
Cocoa butter is produced from cocoa beans. "Oils and Fats Authentication" explains that fermented beans are "ground into a paste," which is pressed until cocoa butter is extracted. The World Cocoa Foundation states that "cocoa butter is the most expensive fat" because of its chemical make-up.
Uses
The American Shea Butter Institute recommends using shea butter for a variety of skin conditions, including "eczema, dermatitis, insect bites, sunburn, frostbite, wrinkles, blemishes and wound healing." Cocoa butter also has moisturizing properties, can be used to treat stretch marks, and is a thickening agent in cosmetic products like lipstick and soap.
Substitutions
According to "Shea Butter Republic," shea butter is a popular, less expensive substitute for cocoa butter in the mass production of chocolate bars.
Fun Fact
Britain's "The Independent" reported that villagers in Ghana have experienced significant improvements in "economic prospects and lifestyle" because their shea butter is exported to major cosmetic companies around the world.