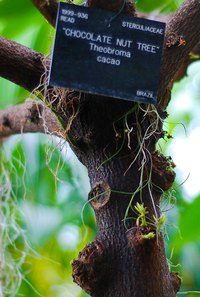 Why do so many skin care and beauty lines contain cocoa butter? Because the natural fat, derived from the cacao bean, adds hardness to soaps, firmness to lotions and lip balms, and--most importantly--is packed with moisturizing and healing benefits for the skin.
History of Cocoa Butter
Although Mayans began cultivating the cacao tree more than 3,000 years ago. In western industry, the 1828 invention of a specially-made hydraulic press made the bean's fat, known as cocoa butter, usable as a massage cream. Today, the majority of cacao beans grown for both food and cosmetics come from Africa.
Hydrating Properties
Cocoa butter possesses soothing, moisturizing qualities. The fat is solid at room temperature but reacts to your skin's body heat, helping it penetrate deeply under the skin's surface.
Shielding Function
While cocoa butter itself penetrates deeply into the skin, it also leaves behind a protective shield, locking in moisture while keeping out environmental bad guys.
Suppressing Disease
One of cocoa butter's chemical components, cocoa mass polyphenol (CMP), can suppress the body's production of immuno globulin (IgE). Those shielding powers mean that conditions affected by IgE, including the skin conditions psoriasis and dermatitis, are aided through the topical application of cocoa butter lotion.