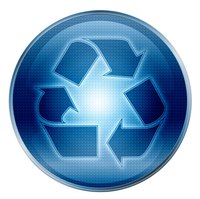 Office recycling policies are common in many organizations, but they are not always clearly articulated or uniformly followed. An office recycling policy should have clear guidelines and be strongly reinforced by management. Recycling policies are often an important step toward adapting more sustainable business practices, so they are an important feature of any company.
Features
An office recycling policy needs to have several features in order to be effective. It should have clear guidelines that are easy to follow. The policy will feature a list of acceptable items to be placed in recycle bins, as well as a list of unacceptable items, to avoid any confusion. Contact information needs to be included so that policy users know who will answer their questions, should they have any.
Significance
The significance of implementing an office recycling policy is enormous. Businesses already save millions of tons of paper from the landfill every year through office recycling programs. Recycled office paper is used to make many different paper products including toilet and tissue paper. By recycling at the office, employees are also contributing to the increasing availability of recycled products that they use at home, so their participation has a benefit outside the office as well.
Benefits
There are many benefits to having an office recycling policy, beyond the obvious benefits to the environment. When everyone in an office buys into and follows a recycling policy, it can positively contribute to overall staff morale and make employees feel more involved with their workplace. Recycling in the office also reduces resource consumption, which can have a financial benefit for the business. Taking the small step to implement an office recycling policy helps combat climate change and improves the overall office environment.
Effects
The effect of a good office recycling policy is that employees will feel better about their participation in the fight against climate change. The policy is good for the company's public image as well since it demonstrates at least a small commitment by the business to reducing its total carbon footprint. An office recycling policy has an effect on the world outside of the office, because following the policy saves trees and reduces the consumption of resources used to make new paper.
Considerations
As with any new office policy, consideration should be given to who will champion the policy. Your office should decide on a "leader" who can explain the policy to employees and answer any questions people have about it. Also, consider how much and what items your office can reasonably recycle and how you can make it easier for employees to follow the policy. Like any new policy, an office recycling policy needs to be accessible, or it will be difficult to get employees to follow it.