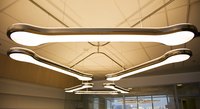 The T5 and T8 designations for fluorescent bulbs refer to the tube diameters. A T5 bulb is 5/8-inch in diameter, and a T8 bulb is 1-inch in diameter. The bulb characteristics are such that they are not interchangeable in lighting fixtures and their bases are designed to prevent improper use.
Shape
T5 and T8 bulbs come in linear shapes. The T5s are 12 to 58 inches long; the T8s are 13 to 96 inches. U-bent fluorescent tubes are available only in the T8 size with 1 5/8 inches and 6 inches as the standard gaps between the tubes. Some circular tubes are made in the T5 size.
Wattage
T5 bulbs range from 8 to 80 watts. T8 bulbs range from 10 to 86 watts. As an example of the higher power density of a T5 bulb, a T5 consumes 80 watts of power in a 58-inch length and with a 3/8-inch smaller diameter, while a T8 needs 96 inches to consume 86 watts.
Bases
T5s have miniature two-pin bases on each end except for the circular versions and some special bulbs that have four miniature pins in one location. T8 bulbs have medium two-pin bases for the most part, except for some of the higher wattage models that have recessed double contacts.

Color Rendition
Both T5 and T8 lights come in the common finishes (colors) of bright white, cool white, daylight white, neutral white, warm white and plain white. The color rendition indexes (CRI) for the T5 bulbs are mostly in the 80 to 90 range. This shows their general use in producing pleasing light. About one-third of T8s have CRIs below 80. This shows their use in less color-sensitive applications. T5s and T8s with clear finishes are used in germicidal applications. Blue-black T5s are available. Blue, green and yellow are the T8's unusual colors.
Comparison
T5 bulbs take smaller fixtures to produce light equivalent to T8s. Used with up-to-date electronic ballasts, T5s can save 35 percent in the amount of electricity used for light and 44 percent in the quantity of cooling energy used to remove the heat of the lamps and ballasts compared to T8s. The T5s have a service life of 18,000 hours, which is 3.6 times that of the T8s.
Cost
The smaller size, better quality light, longer service life and energy savings of the T5s come with a cost. A common T5 bulb costs about $8, compared to $2 for an equivalent T8.