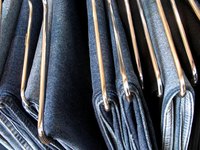 The Coogi clothing line is known for its use of vibrant colors, eclectic patterns and unusual textures. Although the company originated in Australia and marketed its style to wealthy Europeans, the Coogi clothing company has met with unexpected popularity among young African Americans and mainstream Hip-Hop artists. Since its inception, Coogi's manufacturers have extended the exclusive menswear clothing line to include clothing for women and children, as well as outerwear and accessories.
Founding
The Coogi clothing line was founded in 1969 by Australian designer Jacky Taranto, following his departure from the Toorak Menswear store. The clothing line was initially called Cuggi, but was changed to Coogi in 1987 in an effort to increase the brand's popularity. Taranto initially marketed his clothing to American and European tourists in Australia, hoping they would want to purchase his brightly colored, intricately woven sweaters as a memento from their trips overseas.
Celebrity Endorsements
Once the Coogi brand began gaining popularity, noted celebrities endorsed the brand by wearing the clothes in the public arena. Muhammad Ali and John Denver were among the first celebrities to don the intricate threads; Bill Cosby made the sweaters extremely popular during the 80s and early 90s by wearing them on the long running Cosby Show.
Hip-Hop Explosion
In the early 1990s, Coogi exploded onto the American hip-hop scene when rapper Notorious BIG mentioned the clothing line in some of his rhymes. In one song he said, "I stay Coogi down to the socks." In another song, he proclaimed, "Living better now, Coogi sweater now." Following his pronouncement, America's urban population began purchasing clothing made by Coogi, greatly contributing to the brand's success. The clothing line has been endorsed and worn by individuals from every aspect of the urban entertainment industry, including Ice T, Stacey Dash, Damon Dash, Jay Z, Vivica Fox, Russell Simmons, LL Cool J and Megan Good, to name a few.
Financial Trouble
In 2001, original founder Jacky Taranto sold the Coogi brand to U.S. investors Norman Weisfeld, Bruce Weisfeld and Jimmy Khezri. According to the Hearld Sun, Taranto was 25 million dollars in debt and no longer had the assets to maintain control of the company.
Brands
The Coogi clothing line has several offshoot brands, including Coogi Men, Coogi Women, Coogi C 69, Coogi Authentic and Coogi Kids. Coogi clothing is available from numerous retailers across the United States, as well as exclusively from its online store, shopcoogi.com.