Dress pants come in a variety of shapes, fabrics and styles. While classic black, wide-leg trousers work for many occasions, there are plenty of other options available. Whether you're headed to the office or an after-hours hot spot, you can find the perfect dress pants to suit your style and event.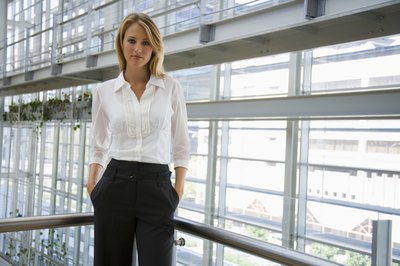 Occasions
Dress pants are typically of higher quality and are worn on occasions where a more formal style of dress is expected. Choose classic styles of dress pants for daily office wear and business meetings. More chic styles can be worn to cocktail parties or a night out at a bar or dance club. Look for elegant, well-made dress pants for formal occasions like weddings or charity events.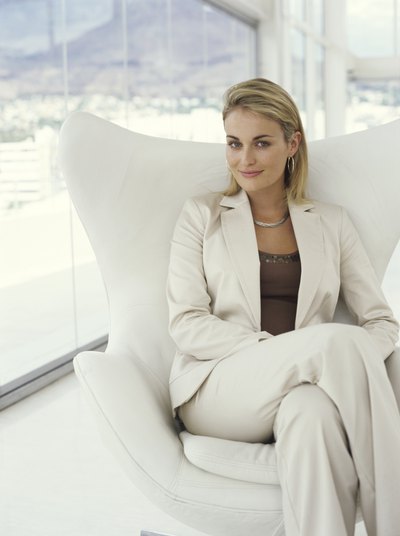 Styles
Dress pants come in all cuts and shapes, but subtle flare and wide-leg trouser styles are the most suitable for all occasions. The hem should skim over the top of the shoe, letting the toe peek out. Dress pants should have a mid-rise to high waist.
The most flowing, widest-leg dress pants are perfect for formal occasions. High-heel shoes with pointed toes work best with flare and wide-leg styles. Straight-leg dress pants can work well for the office, as long as they are not tapered or tight "skinny" styles. Straight and bootcut styles can be worn with lower heels or flats, with round- or square-toe shoe shapes.
Save shorter, slimmer-leg dress pants for night clubs and more casual events. Pair with round or pointed-toe high heels.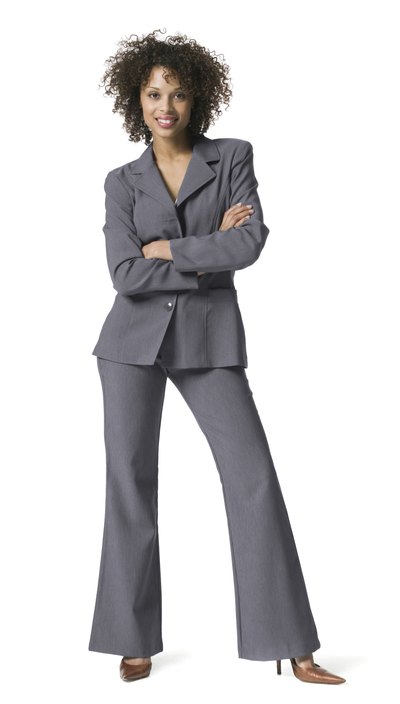 Fabrics
Look for silky, luxurious fabrics with a sheen for formal occasions. Work trousers can be rayon, polyester, double knit or wool. Wool dress pants must be lined. Silk, sharkskin and velvet dress pants work well for dressier and evening events. Ann Taylor and Ralph Lauren offer wool and knit pants with stretch for added comfort and shape retention.
Dress pants are typically worn in neutral, solid colors like black, gray, brown, navy and cream. A subtle plaid or pinstripe offers a classic look for the office. Bold prints can work for summer events and formal brunches, but only in wide-leg styles and silky fabrics.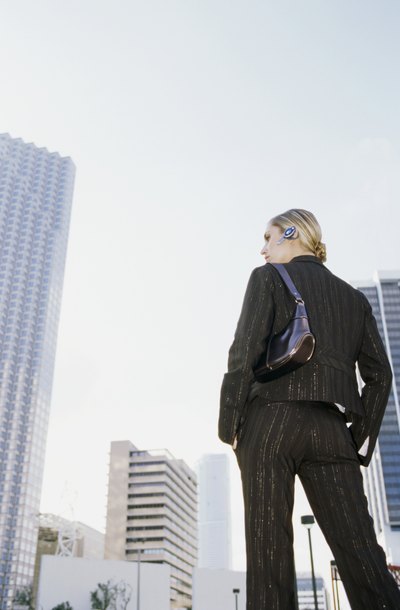 Details
Formal dress pants often have no pockets at all. Some styles have slit pockets in the front or back. Work trousers may have full pockets in front and slit pockets on the back. Dress pants have decorative details like a coin pocket in front, metal accents, ribbon trim and extended tab closures to hide fasteners.
Dress pants can have added quality details like additional inside buttons, full or partial lining, tummy-control panels and covered buttons. Look for smooth silhouettes for formal occasions. For clingy and silky blouses, elastic-waist dress pants can offer cleaner lines than bulky buttons and zippers.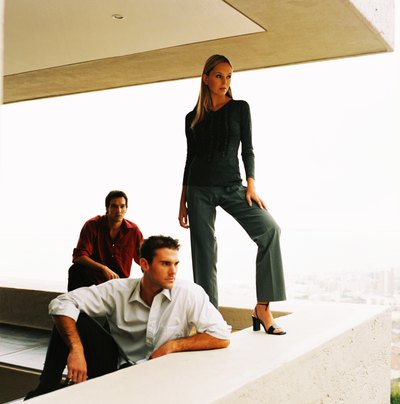 Considerations
Look for more durable fabrics like polyester and wool, with lining, for daily office wear. Invest in pieces with tailored darting and double stitching. Check labels for cleaning instructions before you buy. Tags that offer machine-wash or dry-clean options should be dry-cleaned for best results. Washing silk and other fine fabrics often causes shrinking and wrinkling.
Try on all dress pants before purchasing. Not all shapes work for all figure types. Very wide-leg trousers and skinny pants are the trickiest styles to wear. Taller women can wear flared-leg styles, but wide-leg dress pants can make petite women look shorter and wider. Straight and boot cut styles in a mid-rise are the safest bets for a flattering cut for all sizes.