A wedding is one of the most important days in a couple's life. It symbolizes a new period in the bride and groom's life, and they want to make it as memorable as possible. Wedding receptions usually don't have grand entrances like the wedding ceremonies, but more and more couples want to have a grand opening at their reception. Couples can make themselves stand out by planning a grand entrance that is uniquely their own.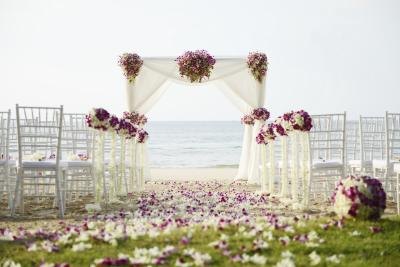 (l2egulas/iStock/Getty Images)
Have your wedding entourage open for you. You may want to replicate the entourage walk at the wedding, to add suspense to your entrance. The wedding reception emcee can say a few words to introduce you and the groom. Ask your bridesmaids to shower confetti around the room and make a path for you made of roses.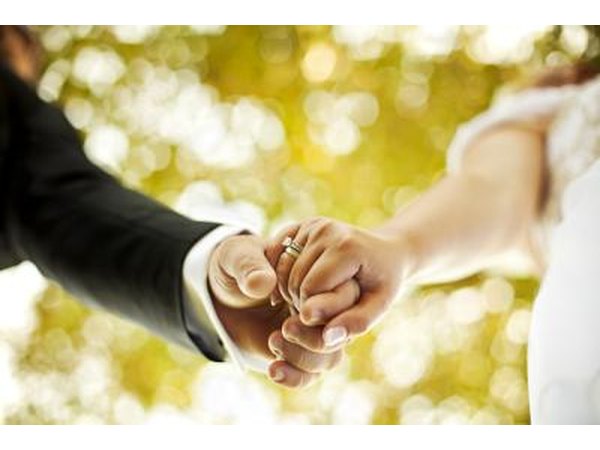 Dejan Ristovski/iStock/Getty Images
Another idea for a grand entrance is for the married couple to enter the room and walk around the hall while a spoken recording plays in the background, similar to beauty pageants. This will allow the couple to talk more about how important the day is for them as a couple, as well as share their goals and dreams together with the audience.
a-fitz/iStock/Getty Images
One of the best ways to stand out while entering your wedding reception is to open with a playlist. Songs have a way of touching people's emotions, and in the future, when they hear selected songs you play at your wedding, they may think about your wedding. You may want to compile a list of songs that you listened to during the relationship, or songs that had an impact on you. This is a technique for your wedding to be remembered by a lot of people.
Fuse/Fuse/Getty Images
To make the grand entrance different from what your guests have seen in other weddings, select a particular theme and costume that will set the mood for the wedding reception. You may want to dress with the popular fashion in your favorite decade, or you may want to dress in matching attire. Dress like famous couples or wear matching outfits to bring excitement to your entrance.
Nancy Kennedy/iStock/Getty Images
Although you want to have the best grand entrance possible at your wedding reception, keep in mind that there is no need to go over the top. All eyes will be on the bride and groom anyway, so it is best to keep it straightforward, yet memorable. Loud, boisterous music should be saved for the dancing later in the night, and instead opt for romantic music for your grand entrance.
Image Source White/Image Source/Getty Images
Promoted By Zergnet