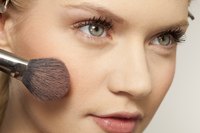 Cosmetics company M.A.C. offers over 40 styles of makeup brushes, from flat foundation brushes to big brushes for dusting powder over the face. M.A.C. brushes are renowned for their quality and last a long time with proper care. Select retailers and M.A.C. stores sell the company's brushes, but avoid purchasing them from online auction websites, as counterfeits are common. Clean your M.A.C. brushes by gently washing them with water and a mild cleanser.
A Variety of Brushes
M.A.C. offers many traditional brushes, like those for applying blush or loose powder, which feature full heads of loosely packed bristles. Smaller brushes for use with products, such as eye shadow and concealer, are available as well. Some M.A.C. brushes are made with animal hair, while others are synthetic or feature a combination of fibers. Prices for individual brushes vary, but smaller models, like lip brushes, typically cost less than larger ones. The company also has a cutting-edge line of makeup brushes which resemble toothbrushes. Ultra-soft hairs on the brushes are designed to glide over the skin, creating "seamless veils of color and coverage," according to M.A.C. senior makeup artist Victor Cembellin.