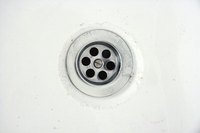 Stainless steel sinks are tough and durable. They will give you a lifetime of use if they are kept clean and cared for every day. Given the proper care, they can resist scratches, rust and stain.
Daily
Since most detergents contain chlorides, which can cause stains, and some water may have a high concentration of minerals, you will need to rub your sink with a soapy nylon or synthetic sponge and rinse every day. Allowing mineral deposits to settle can cause discoloration and rust spots. Dry with a paper towel. Rinse your sink thoroughly after each use with warm water. If water is allowed to remain standing in the sink, water spots and streaks will occur.
Weekly
Cover the entire surface of your sink with a nonabrasive stainless steel cleaner such as Soft Scrub, Bar Keepers Friend or Cameo Stainless Steel Cleaner. Scrub and rinse with warm water and dry with a paper towel. Doing this once a week as preventative maintenance can help in avoiding stains and build up of rust.
Maintenance
Apply white vinegar to a cloth and wipe the sink clean. This will clean and polish your sink. You can also remove streaks by rubbing olive oil into the sink. Scratches can occur over time because of silverware and cooking tools being placed in the sink. You can minimize the look of these scratches by using a fine 3M Scotch-Brite pad, wiping in the direction of the grain. Rinse with warm water and dry with a paper towel.
Things to Avoid
Foods containing high levels of salt or acids placed in the sink can cause corrosion over time. Always rinse your sink if it has come into contact with these items. Using rubber mats in your sink can actually trap water and minerals and cause spotting or staining. Always rinse and dry your mats after use. Avoid using steel wool on stainless steel and never scrub against the grain as this can cause scratches on the surface.
Stainless Steel Cleaners
You can find a variety of approved cleaners at a supermarket. It is best to check with the manufacturer of your sink to see if it has any recommendations. Otherwise, try a cleaner on a small area on the sink wall before applying to the entire surface. Cleaners such as Soft Scrub and Bar Keepers Friend work well on stainless steel sink surfaces.