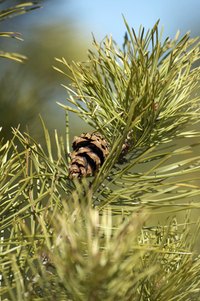 There are many trees that have needles instead of leaves, which makes them more difficult to identify. With a needle leaf tree guide, these trees can be identified more easily, based on the shape of their needles, amount of needles and length of their needles. Most of these needle leaf trees are conifers.
Single Needle Leaves
Single needle leaf trees fall into two categories based on how they are attached to the twig coming off the branch of the tree. On coastal redwoods and true firs, the needles will be connected directly to the twig, growing off it like leaves off the branch of a common plant. On trees like spruce trees, the individual needles will be connected to the tree via a peg-like stalk, which is also known as a needle peg.
Bundles
Sometimes needles on conifers are bundled together, grouped in bundles that are attached directly to the twig. Often there are two, three or five needles per bundle. A given tree usually has the same number of needles per bundle. Bundles are most common in pine trees. The Austrian pine can be identified by having two needles per bundle. The ponderosa pine can be identified by having three needles per bundle. The western white pine can be identified by having five needles per bundle.
Clusters
Other conifers have more needles than can be counted on each of their twigs, or at least more than five per peg on each twig. This makes it a cluster of needle leaves, as opposed to a bundle, and is unique to certain types of trees like cedar. The deodar cedar and the blue atlas cedar are two examples of conifers that can be identified by the clusters of needles on their branches.