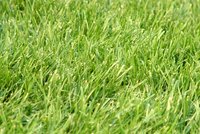 Grubs, which are actually the larvae stage of beetles, can cause serious damage to your lawn if the infestation is left untreated. These larvae feeding on the grass roots in your lawn can kill it. A homemade insecticide is safer than a commercial insecticide when you have pets and children playing on your lawn.
Grub Infestation
A grub infestation appears as brown splotches of grass on your lawn that lift off the soil base easily when raked or scuffed with your shoe. To confirm you have grubs, dig down several inches and shake out the dirt. Grub larvae will appear as worms that are white and half-moon shaped. Skunks and other wildlife will tear up your lawn scavenging for grubs, which is another indication that you have an infestation.
Garlic to Kill Grubs
Garlic is a natural material that kilsl grubs and other pests on your lawn and in your garden. To make a lawn spray, smash ten garlic cloves in a garlic press and spread on a cookie sheet to dry. After powdering the dried garlic in a food processor or blender and grind it's mixed with a 1/4 cup of water and allow to sit for several hours. After straining the mixture goes into a one-gallon plastic container filled to the top with water. If after saturating the lawn, the solution appears to harsh add water by the cup until the testing shows the solution doesn't damage the grass. When ready to spray, put the mixture into a garden sprayer and saturate your lawn. The best time of the day to spray is in the evening. If the grubs are still visible a week, reapply. The garlic spray is not harmful to pets, but if they are on the lawn when the grass is wet from the solution it can cause irritation to their eyes.
Horseradish Spray for Grubs
A second solution requires three quarts of water, two cups of chopped cayenne pepper and a one-inch piece of horseradish root (purchase at a herb shop) boiled, strained and cooled. When ready to spray your lawn put solution into a garden sprayer and saturate your lawn. The spray is not harmful but may cause irritation to the eye if the spray is still wet or there is a dew on the grass, so use caution for a few days after applying the solution.