Sometimes you may come upon a flower that you cannot identify but would love to make a part of your garden. If you are a curious gardener and want to learn about the flowers in your part of the world, you will need a flower identification guide to help you. You can find some excellent books to help you or you can use the websites available to help you identify a flower in question.
Identification Process
Choose a flower identification guide that suits your needs and that you feel comfortable using. Depending on the type of guide you choose, the identification process can be done by bloom color, number of petals, leaf shape, stem orientation and region. Choose flower guides with keys--classification indexes--in the front of the book or websites with characteristic classification options for you to choose from. This will eliminate the need for flipping through pages or looking at many unrelated photos.
Books
Purchase a flower guidebook or check one out from your local library. Choose one that has clear, sharp, color photos instead of drawings, which may not be as helpful. If you are using your guidebook while walking or hiking, look for one that is lightweight and can be carried by hand or in a backpack. Make sure you understand the text and that it is not a guide for a professional or more knowledgeable botanist.
Look for flower identification cards, which are very easy and compact to carry when you need a field guide. Some states have flower identification cards for native plants, such as the Washington Native Plant Society, which offers cards for the Pacific Northwest that are free to print and use. Your local plant associations or societies may have something similar to offer.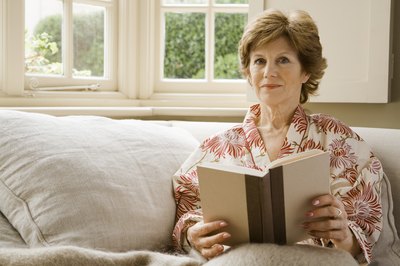 Internet
Learn to use a website devoted to identifying flowers. The Natural Resources Conservation Service allows you to select a flower that you are searching for by certain characteristics, such as region or growth habit--such as tree, vine or shrub. Choose the characteristics that apply. The results come back by scientific or common name, and you can look at the pictures of the results to identify the specific flower. If you plan on using online resources, set aside plenty of time to browse through pictures and have a picture of the flower in question available so you can refer to it for traits and characteristics.