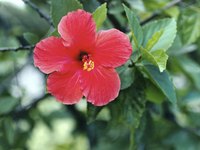 Hardy hibiscus, beloved for their brilliantly-colored plate-sized blooms, require only a bit of seasonal pruning. They also grow to heights you may not want--6 to 8 feet is not unusual--so you may want to exercise some optional pruning to prevent the shrub you want from becoming a screen. With a good eye and a pair of pruning shears, you can keep your hardy hibiscus in check.
Prune and Mulch in Fall
In the fall, a hardy hibiscus will appear to die, but the root system is still alive. Prune dead growth back to between 6 and 8 inches. After cutting back the dead growth, add a mound a mulch. Mulching not only protects the root system through the cold weather, it helps to produce a fuller, bushier plant the following season.
Annual Pruning
Hibiscus blooms form on new wood, so annual pruning, if not intermittent pruning, is essential. As the weather starts to cool, some gardeners prune their hardy hibiscus back in stages, rather than pruning it back to just a few inches all at once because they believe doing so reduces stress on the plant.
Severely Prune in Spring
In the spring, after the danger of frost passes, you should prune the remaining dead growth back to the crown of the plant. It will grow back quickly and vigorously.
Prune to shape and shorten
Shortly before your hardy hibiscus reaches the height you want, you can begin to prune it to prevent unwieldiness. If you wait until the plant is at the height you want, the bottom of the plant will look leggy and relatively bare. Cut back before then to help the plant to stay bushy. You need only to cut a few inches off the longest branches.
Position Shears Correctly
To prune while the plant is growing, position your pruning shears at the junction of the stalk just above a new leaf, then snip. This prevents unsightly bare twigs from protruding from the plant.