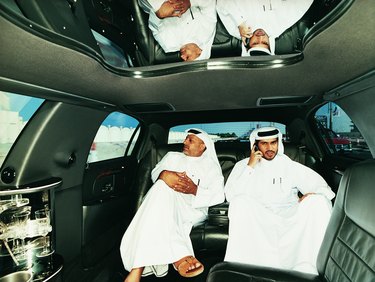 A sheik costume is comfortable, easy to throw together and fun to wear - the ideal attire for a costume party. It is loose fitting and can be almost wholly assembled from items found in your closet. There are three primary elements to the typical costume - the headpiece, the robe and the under dress - but you can add a little flair to your sheik look with some simple accessories and variations as well.
Headpiece
The headpiece can be made from a large rectangular scarf, piece of fabric or sheet. It drapes over the head, and is held on by a headband. Thick gold rope, which can be purchased in the notion section of a fabric store, makes for a flashy headband. The headpiece should fall below the wearer's shoulders. It can also be embellished by sewing trim along its edges.
Robe
A silk, floor-length men's robe can be used for the robe of the outfit, or a similar garment can be sewn. Vertical stripe fabric is a good choice for a sheik's robe, or a plain colored material with gold trim around the openings. Instead of buttons, the robe should simply be tied at the waist. Instead of a separate belt, some homemade sheik's robes have two ribbons sewn to the front of the robe, with one on each side. The robe is secured by tying the two ribbons together, serving the same purpose as that of a belt on a robe.
Under Dress
Beneath the robe is another floor-length garment, which might be fashioned from a plain white sheet. It is nothing more than a floor-length straight dress or long nightshirt. Shoes might be sandals or boots, and slacks can be worn beneath the under dress.
Valentino's Sheik
Instead of the under dress and robe, try a white shirt tucked into a cummerbund-type belt, and ballooned white pants with the legs tucked into high leather riding boots. Finish the outfit with a cape. This costume would be more in line with Rudolph Valentino's attire in "The Son of the Sheik."
Accessories
If you want your sheik to look especially wealthy, take a trip to a thrift store and look for some flashy costume jewelry with enormous fake gems. Finding men's rings may be difficult, but not impossible. For an elusive sheik, add a pair of dark sunglasses. A beard (real, fake or painted) completes any sheik outfit. And if your sheik wants something to hold, consider a fake sword.