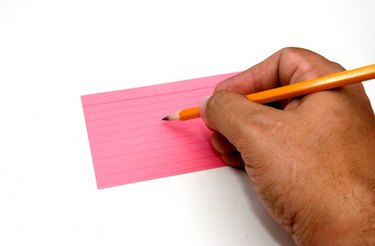 Whether the mom-to-be is a sister, cousin, friend, coworker, or something else, a baby shower can be a lot of fun. The best part is that, as an attendee, you get to present the guest of honor with a gift and/or a card to show them how excited you are for their little bundle of joy. The hard part, of course, is figuring out what to write in the card. There may already be a message printed on the inside, but you'll likely want to give your card a personal touch.
Classic Ideas
Inscribe a poem that you feel epitomizes your feelings about motherhood. One of the purposes of poetry is to help us put into words the big emotions we feel. Perhaps, as she is cradling her new child, she will remember the poem you found or wrote for her. One poem reads, in part, "You are more perfect than I could have hoped, more beautiful than I could have dreamed."
Pour out your heart in your card. While expressing your emotions can be difficult, at a baby shower it is very unlikely that your sincere emotions will be met with anything but gratitude. Starting can be the hardest part. Begin with "Congratulations on the addition to your family. I hope you…."
Another idea is to turn the card into a time capsule. Tell the mother-to-be how happy you are for her, but leave lots of room for her to write her own thoughts. After that, she can seal the card away in an envelope, opening it when she wants to remember how happy she was during pregnancy.
From Fellow Mothers
Offer some anecdotal advice to the new mother, particularly if she has not been through childbirth before. Perhaps you know some good ways to calm a crying baby, or a special recipe for homemade baby food that you would like to share. While you shouldn't be overly preachy with your words, most new mothers will appreciate guidance wherever they can get it.
Draw a coupon offering your services for babysitting or something else the new mother will need. Add your phone number and other contact information to emphasize that you are interested in helping her through the tiring and stressful process of caring for a new child. Perhaps most critically, you could offer your babysitting services to allow her to spend time with her husband, caring for a bond that is often strained by a baby.
Go Digital
Send the mother an electronic card because it saves a tree and can incorporate multimedia. The sites offering these (often free) electronic cards can make it easy by including default messages, or you can write your own. If the card features an animation, your message can comment on that, e.g., "Congratulations on the arrival of your own stork…."