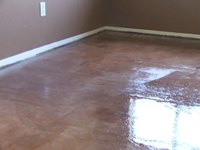 Staining concrete is not that easy of a job, but is well worth it if you don't want to install a new floor. Staining concrete takes a lot of time, mostly in ensuring the concrete is extremely clean and free of large cracks. You will generally work with acid in staining concrete so be sure to protect yourself with masks and work in a well-ventilated area.
Materials You Will Need
If using an acid stain, working in a well-ventilated area with goggles and mask is necessary along with wearing gloves, long pants and a long shirt. Other materials you need are scrapers, wire brush, quick dry concrete, painters tape, wet vac, sprayer, paint tray and roller, acid concrete stain, sealer and acrylic floor wax, according to howtostainconcretefloors.com. Sweep the concrete with a broom and scrape any substance on the surface, such as adhesive from linoleum or pieces of rug backing. Wash the concrete using one cup of trisodium phosphate to four gallons of water. Use a wet vac to suck up the water as you go. Protect your baseboards with painter's tape.
Once the concrete is dry, check for holes or cracks. Very small cracks can add a bit of character, but fill in larger cracks with concrete glue and let it set. After it has set, fill with anchoring cement and let it dry. When you stain concrete, cracks and stains will show through. Wash and dry again and allow the floor to dry for at least 24 hours.
Staining Concrete
Fill an acid-resistant sprayer with your stain. Spray in circles starting at the back of the floor, according to concrete-stain.com. You can dilute your stain with water with a 1:1 ratio. It's helpful if two people do this project with one person spraying and the other following with a broom to scrub the solution in a circular movement. Once you are half done with the spraying, spray over the brush marks from the broom to remove the stroke marks and give the surface a clean, natural look. Once the staining is complete, let it dry. The amount of drying time will depend on what brand of stain you are using. You can use fans to shorten the drying time.

Sealing
Add about a half cup of baking soda per gallon of water, mix well, and spread it over the entire floor with a broom. This will neutralize the acid stain and set it. Add a lot of water and use the wet vac to suck the liquid up. Once done, wash again with just water to wipe up any baking soda residue. Let dry for at least 12 hours. Apply two thin coats of sealer with a paintbrush or roller. If you see bubbles appearing, they will disappear, although they are slow to do so. As with washing and staining, wear a mask, never do this near an open flame and make sure you are in a well ventilated area. Let the sealer dry for about two hours; apply another thin coat of sealer. After about two days, you can apply two or three thin coats of wax with a mop. A synthetic hair mop is best for this last step.