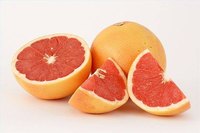 Among the largest citrus fruits next to the pommelo, grapefruit trees mature to reach 30 feet in height. Grapefruit requires full sun exposure, high ambient and extended ripening periods to develop the sweetness of the interior flesh. This ripening process can be extensive and varies greatly. The longer that grapefruit are allowed to hang on the tree, the sweeter the flesh will become.
Judging Ripeness By Timing
Grapefruit have a very long fruiting and ripening cycle that begins with the tree's flowers being pollinated in spring, with fruit formation over the summer. Ripening continues through the fall and the early winter for harvest in late January, February and even as late as March of the following year. In warmer climates and in optimal growing conditions, this length of this process can shorten to six or seven months but is not easy to predict without some year over year familiarity with the tree's fruit production.
Judging By Look, Smell & Feel
Judging grapefruit for ripeness by the color of their skin can be tricky and not always an accurate indicator of ripeness. Ripe grapefruits have the appearance of rich bright yellow or deep rosy coral skins but may not always be fully ripe or fully sweetened in the flesh. If you monitor your grapefruit tree regularly, you will become familiar with the fruit's scent and you can tell when the scent of the skin takes on a sweeter and rounder character. At peak ripeness, grapefruit will have a slight yield all over the surface when the skin is pressed. When grapefruits are ripe, they feel heavy for their weight from the developed sugars and juice. Again, being familiar with the fruit on your tree, you will be able to feel the difference in weight when holding a grapefruit up off of its weight from the branch.